Moonrise and Alpenglow Clouds Over the Gila Wilderness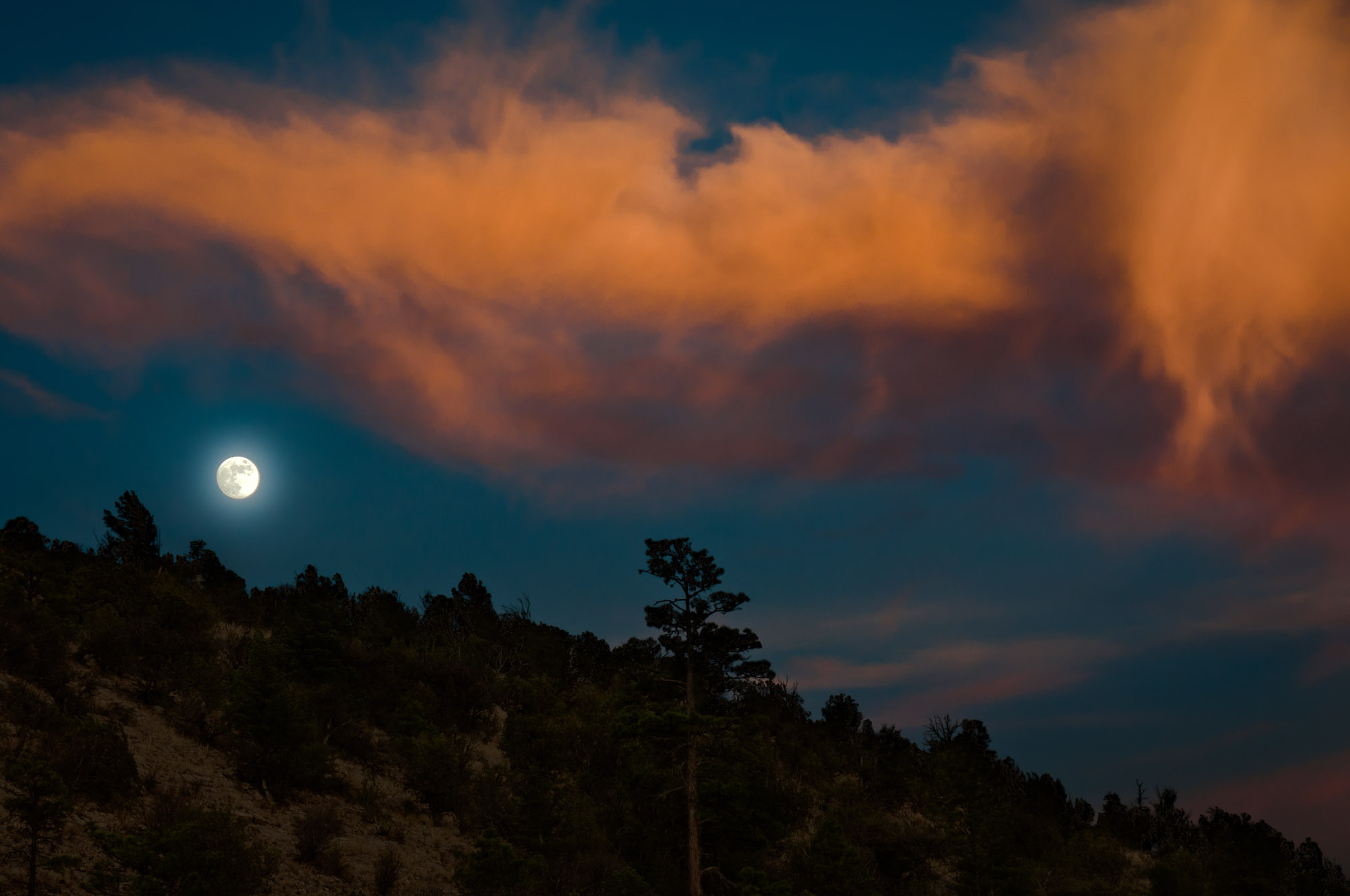 The intense orange color in this photo comes from alpenglow, a saturated light that sometimes bathes high clouds and mountain peaks. It's an exaggerated version of the warm light commonly seen at sunset.
For alpenglow to occur, there must be a high object — a cloud, say, or a mountain — that stands thousands of feet above the land to its west. As the sun sets, some light rays travel down through the atmosphere, skim the surface of the earth, and then continue on, traveling back up through the atmosphere and eventually striking the high object. This light has passed through the lowest, densest layer of the atmosphere twice, resulting in an intensely saturated light that is far warmer than the sunlight at lower elevations. [1]
Numerous wildfires were burning to the west when this photo was taken. I suspect the smoky air also contributed to the intensity of the light's warmth.
A Dinnertime Moon
This photo was taken near the start of a backpacking trip along the Middle Fork Gila River, in New Mexico's Gila Wilderness [2]. My wife and I had just begun dinner when we noticed the nearly-full moon cresting the canyon rim. Temporarily abandoning dinner, I quickly set up my camera and took several shots as the moon climbed above the ridge, thankful that my long-suffering wife tolerates these mealtime interruptions.

Notes
[1] Alpenglow can also occur at sunrise, but since the air is usually dustier later in the day, the colors are typically not as intense as they are at sunset.
[2] The Gila Wilderness is located in the Gila National Forest, north of Silver City in southwest New Mexico.