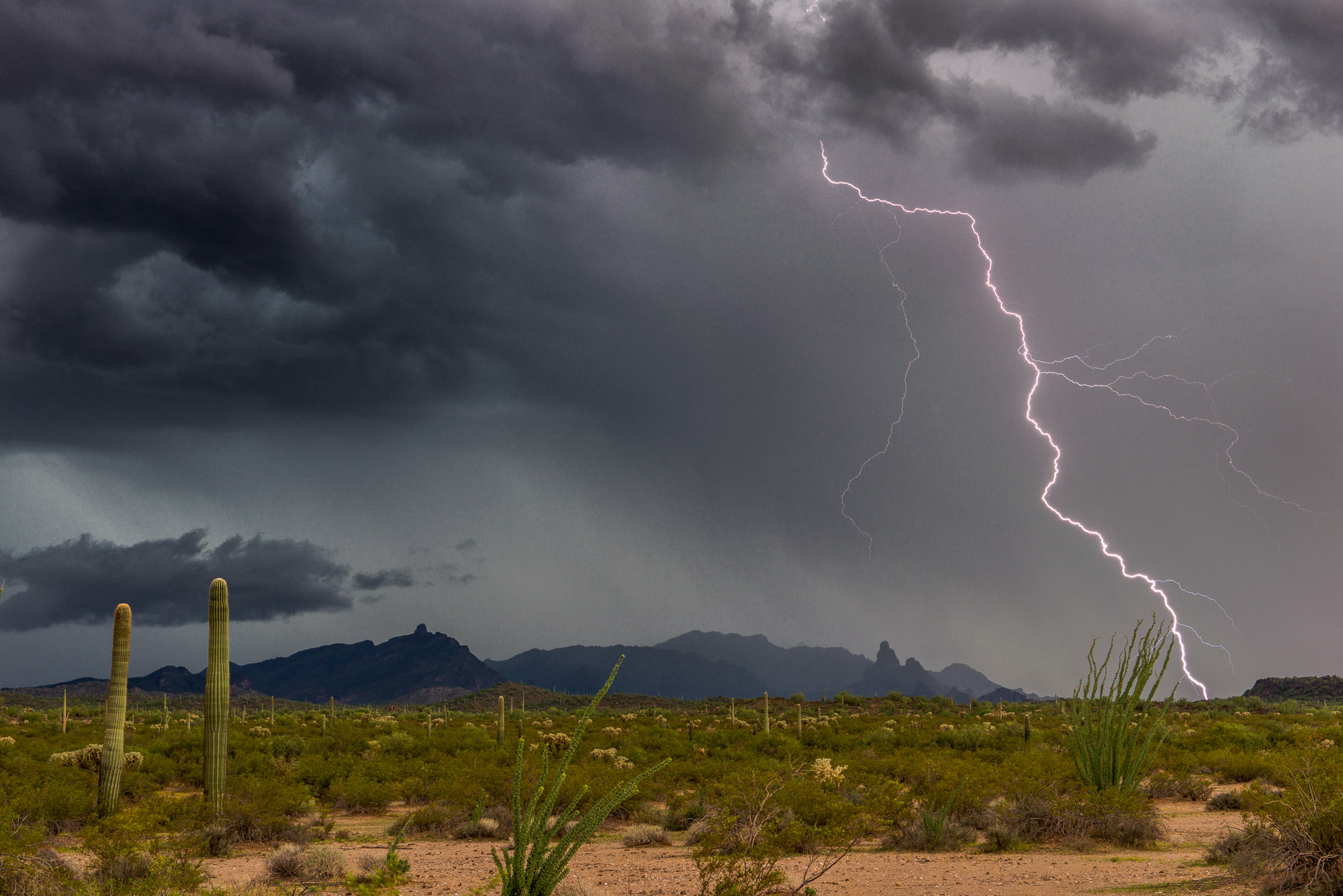 Caption
A brilliant, jagged bolt of lightning strikes the Sonoran Desert near Ajo, Arizona, United States, on the afternoon of August 14, 2014. Each summer, the storms of the North American monsoon bring life-giving rain to this area. Several common species of Sonoran Desert plants, including the Ocotillo (Fouquieria splendens), Cholla (Cylindropuntia bigelovii), and Saguaro Cactus (Carnegiea gigantea), can be seen, green from the summer rain. This photo was taken with a lightning detection device, which triggers a camera's shutter when a sudden increase in light level is seen.
Photo Id
w1369-6a5c-97d52
Date and Time
August 14, 2014   4:58 PM
Location
Ajo, Arizona
latitude 32° 12' 42.4" N       longitude 112° 37' 44.1" W
Show photo location on a map.
Fine Art Print
Purchase a fine art print of this photograph.
Licensing
A rights-managed license to use this photo is available.
      View licensing information
      Send an e-mail requesting a quote
Model Release
No, but a release may not be required for this photo.
Keywords
lightning, monsoon, storm, thunderstorm, weather, Sonoran Desert, Ajo, Tucson, Pima County, Arizona, AZ, flash, bolt, stroke, strike, forked, branching, CG, rain, rain curtains, desert, cactus, Saguaro, Cholla, Ocotillo, mountains, hills, danger, dangerous, menacing, threatening, risk, peril, hazard, dramatic, bright, brilliant, day, daytime, landscape
Questions
Send an e-mail asking a question about this photo.